The Haenyeo are female divers belonging to Jeju Island located in South Korea. These divers dive deep into the sea, without any mechanical equipment, to catch edibles such as molluscs, seaweed, conches, alabones, sea cucumber, hijiki etc. Haenyeo are physically strong and have mastered the art of holding their breath for a few minutes underwater.
The word Haenyeo means sea women. They are independent and courageous. As they dive into the ocean blues without any oxygen cylinders they can also be compared to sea mermaids. In 2016, their practice was listed as The UNESCO Intangible Cultural Heritage of Humanity.
They dive in groups. Their days are spent at sea, plunging deep into the water and catching marine creatures and this is their source of income. They sell this fresh seafood to fishermen and some of the harvest is also served in restaurants in the island. Their harvest includes aquatic creatures such as sea urchins, oysters, sea slugs, shellfish and abalone. The delicacy is the Jeju fish which has a sweet flavour and a powerful aroma.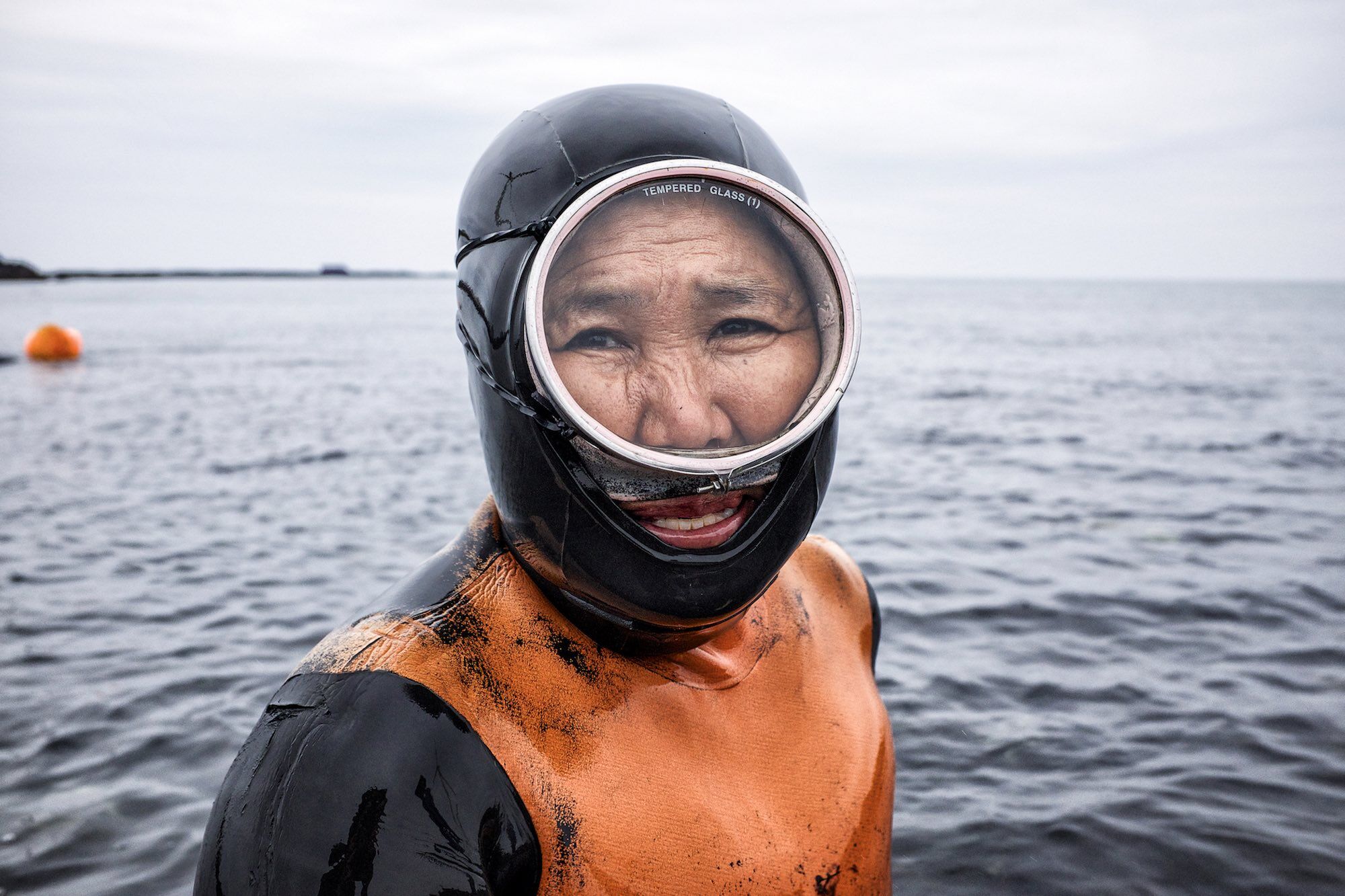 Training to become a Haenyeo-
The training process is quite lengthy; they start by learning how to swim. Initially they dive in shallow waters then they learn how to hold their breath for many minutes. As they are diving without any diving equipment therefore, they are believed to be quite skilled. They are adept in sensing the water pressure, oxygen levels and the distance from the shore and depth of water without the aid of any professional equipment.
Gear used by Haenyeo-
The Haenyeo dive wearing a wetsuit, diving masks and flippers. They carry a net to store their catch. Undoubtedly, their practice is dangerous. They have to take into account certain hazardous factors such as the weather and sea conditions and encounters with big fish like sharks.


Importance of the Sea-
As many crops cannot be cultivated in Jeju Island due to the volcanic nature and shortage of farmland, the inhabitants depend on the sea. They consider the sea as their farmland and source of income. Like farmers are aware of their farmlands and have knowledge of the seasons, crops and cultivation. In the same manner, Haenyeo carry out their harvest at sea and are well aware of which marine life can be harvested during which season and also about their growth and life cycle.

Practice-
The work carried out by Haenyeo at sea is called 'Muljil'. There are different ways of going out in the sea to catch edibles or carry out the act of Muljil. They can dive into the sea straight from the shore, sail for a few days on a ship and dive in different parts of the ocean while moving from island to island or go into the sea by boat.
They have good physical strength and lung capacity as it is needed for swimming, staying underwater while holding their breath, encountering big marine creatures and bearing the changes in water pressure. When they surface from the water they make a whistling sound. The Haenyeo have stayed underwater for a few minutes without oxygen. Hence, once they surface they inhale oxygen and exhale carbon dioxide.
Haenyeo are well informed about the marine ecosystem and geography. They have obtained vast knowledge about the winds, marine life, tides and tidal currents. They know exactly where to find certain sea creatures in the sea like alabones or conches.


Conclusion-
Visiting Jeju Island and documenting these spirited and determined women was a wonderful experience. They have a strong community. The Haenyeo are unique people, residing in a distinctive and beautiful geographical space. Jeju Island is one of the few areas of the world where women are strong willed and carry out such a thrilling occupation and livelihood. Witnessing their practice and being a part of their way of living has taught me a lot as an individual and a photographer. It is something I will cherish.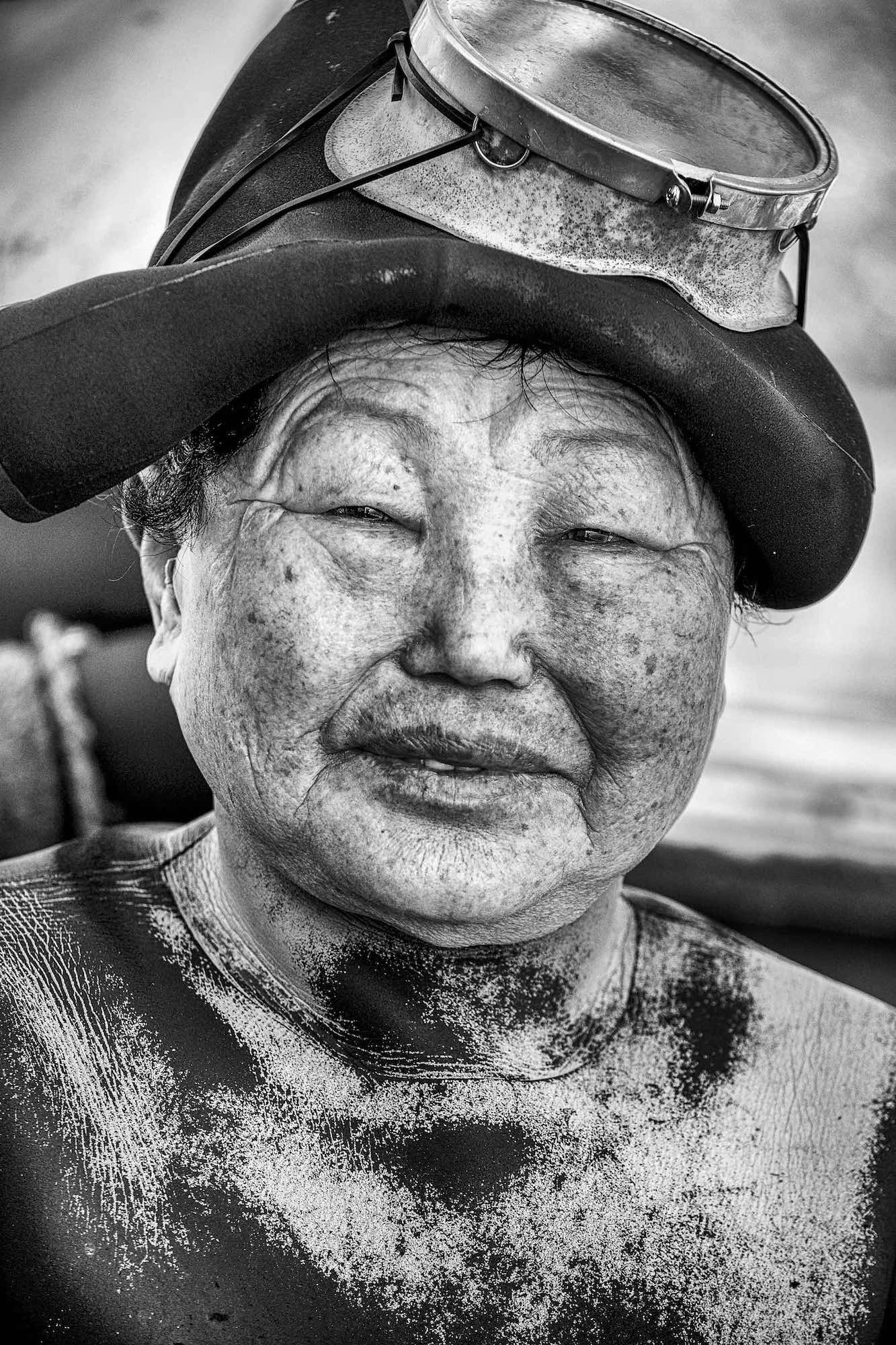 For more information on Haenyeo Women Divers you can visit the following-
Links and social media: