Haenyeo – Photography Exhibition Singapore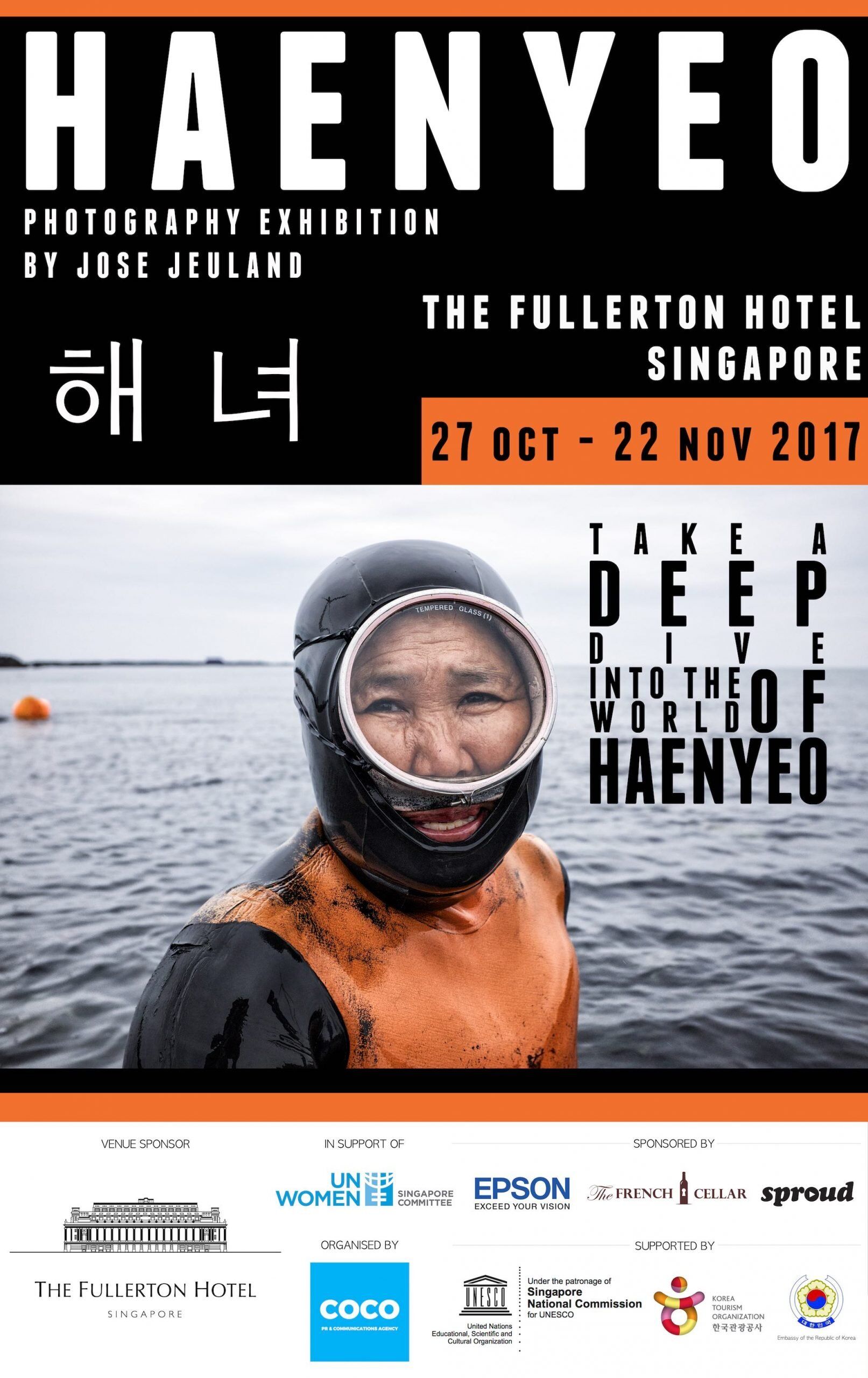 Jose first chanced upon the Haenyeo women when he decided to participate in an Ultra Trail Running Race in Jeju Island and was conducting research on the island. He was enthralled by the innate beauty of the Haenyeo women and how strongly they epitomised courage and perseverance.
Held from October to November 2017 at The Fullerton Hotel Singapore, Haenyeo Singapore featured 1.8m high prints of Jose's photography project on the Haenyeo Women Divers in Jeju Island, South Korea.
Results of Photography Exhibition
Nearest MRT station (Raffles Place): Less than 5 minutes' walk
Changi International Airport: Less than 30 minutes' drive away
Venue: East Garden Foyer, The Fullerton Hotel
Address: 1 Fullerton Square, Singapore 049178
Entry Fee: Free Admission
Exhibition Sponsors & Support
Fine Art Photography Prints In Limited Edition For Sale
Catch of the day – Haenyeo

USD

350.00 –

USD

2,000.00

Defining beauty – Haenyeo

USD

350.00 –

USD

2,000.00

Defying gravity – Haenyeo

USD

350.00 –

USD

2,000.00

Elegance – Haenyeo

USD

350.00 –

USD

2,000.00

Enduring in silence – Haenyeo

USD

350.00 –

USD

2,000.00

Exhaustion – Haenyeo

USD

350.00 –

USD

2,000.00

Gifts from the sea – Haenyeo

USD

350.00 –

USD

2,000.00

Hidden – Haenyeo

USD

350.00 –

USD

2,000.00

Oasis of serenity – Haenyeo

USD

350.00 –

USD

2,000.00

Pensive reflection – Haenyeo

USD

350.00 –

USD

2,000.00

Precision breeds perfection – Haenyeo

USD

350.00 –

USD

2,000.00

Preparing to take the plunge – Haenyeo

USD

350.00 –

USD

2,000.00
During the time of the exhibition a percentage of sales proceeds from the sales of Fine Art Print was intended to be donated to UN WOMEN SINGAPORE COMMITTEE organisation to help them in need.

The print were in three sizes at the exhibition area to suit your decoration needs or collection purpose (225cm x 150cm, 150cm x 100cm, or 45cm x 30cm). Each print was produced on a EPSON Fine Art media (Epson Signature Worthy Hot Press Bright) and printed by a SURECOLOR P10070 and SURECOLOR P20000 EPSON printers. The prints were mounted on Aluminium Dibond Dilite 3mm with aluminium hanging bracket, to add a touch of sophistication to the environment or stretched on a wooden frame for the Epson Archival Museum media.
With an increase in the recognition given to the arts scene in Singapore and the support garnered within the community, we invite organisations and institutions to show support for the local arts community by joining us as a sponsor for this exhibition. You may choose from four distinct sponsorship packages to show your support.
Click here for more information on how you can be part of this exciting exhibition.
Group Visit – Talk Storytelling or Workshop – Events Collaboration
For any group visit, talk (art, photography, culture, travel) or events in collaboration with the Exhibition or with the Photographer, please do contact us at
contact@cocopragency.com
.
More Haenyeo photographs and stories
Jose Jeuland set out to document these Haenyeo women who have dedicated their lives to this craft. " In every photograph that I shoot, I try to encapsulate the essence of the Haenyeo. Some of the Haenyeo are portrayed in monotone to help the audience feel emotions similar to what the Haenyeo often go through. Through these photographs, I want to help the audience experience and appreciate these women for they are the last generation of the Haenyeo ", Jose Jeuland shared.
To be linked to the page please click here
Contact Information
To contact Jose regarding his photography exhibitions, commissioning new photography projects, contributions to editorials, help on how to produce an exhibition or other matters, you may reach him thru his contact page or through his Creative Studio arm at studio@cococreativestudio.com.