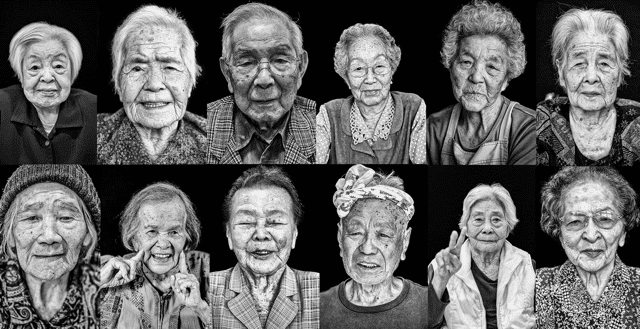 OKINAWA JAPAN
I have been fascinated with Japan from a young age about the country's culture and history.
I read about the health and longevity of people from Okinawa years back and was enthralled to visit them one day. Before this trip to Okinawa, I've travelled multiple trips to Nagoya, Tokyo and Hokkaido for Triathlon Ironman Races.
I registered for the Strongman Triathlon in Okinawa early this year. My goal was to pursue the race and the photo documentary about the longevity of the old people. I was saddened because I was not able to undertake this race due to a minor injury.
My Trip to Okinawa
For this trip, I brought along my FUJIFILM XT2 and, by far, it's one of my favorite camera of all time. The camera is compact and yet does not compromise on the photo quality. This is something that I love about the Fujifilm brand and not just the XT2; they are small, elegant, black and discreet. Very comfortable and convenient to use. In this trip, I also had the opportunity to try the FUJIFILM XT20 body camera and the new 50mm lens.
Right before my trip in Japan, I received an amazing news from Cathay Photo Singapore that Manfrotto will be sponsoring me for my photography journey. I was thrilled with this news as the equipment that I've received came in handy for my trip.
*A Very Pretty Woman named Araka Hideko from Nakagusuku: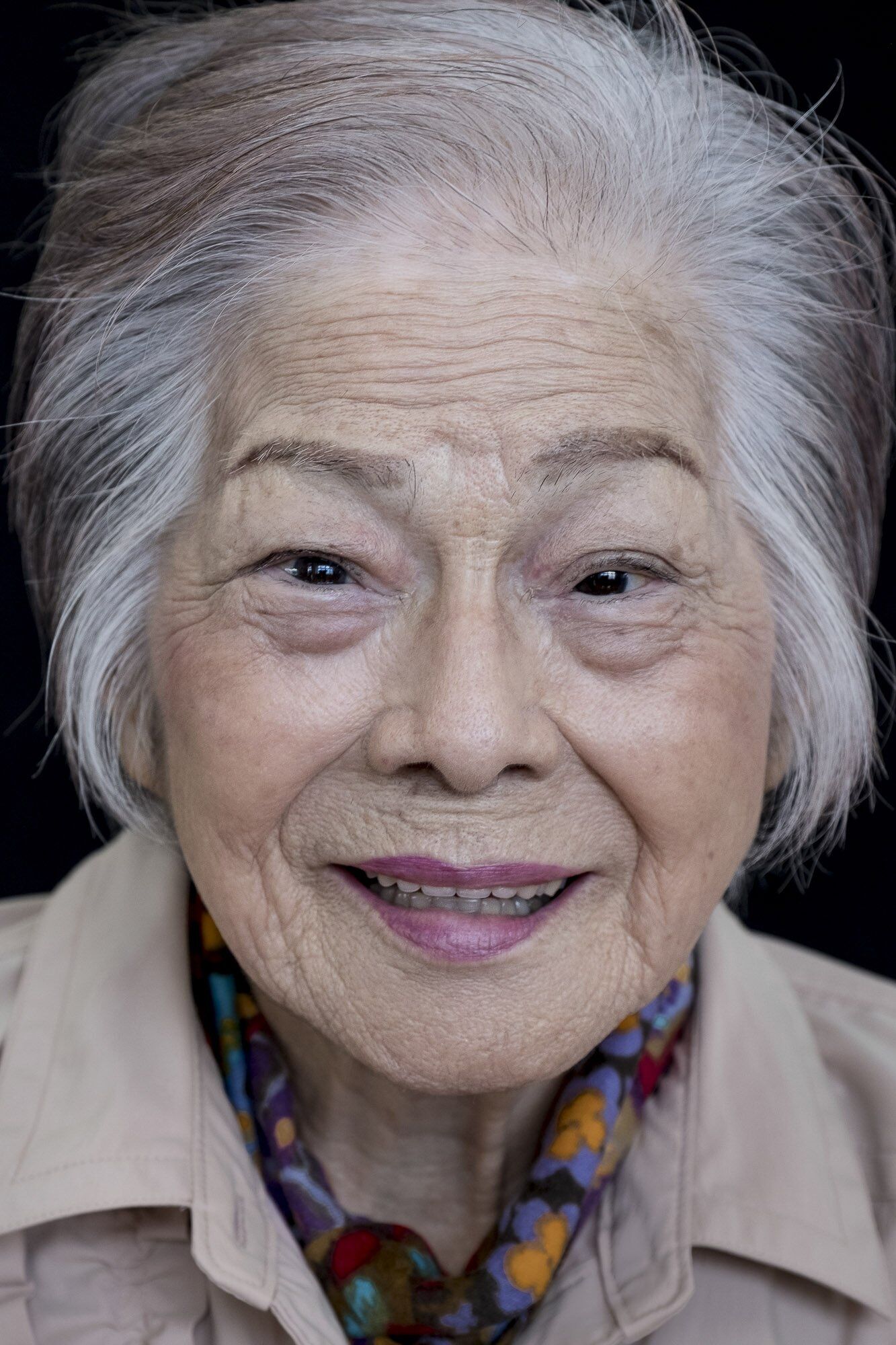 My Longevity Okinawa project (Okinawan Centenarian)
Firstly, I researched on the internet before going to Okinawa. We were in touch with Okinawa Prefecture Singapore Office and they agreed to assist us for this project and managed to arrange a day for me to photograph some old people alongside with the coordinators (Natsuji and Keiko).
It wasn't easy finding them: I emailed many people and institutions to no avail. When we first arrived, my wife, Shanthi, and I spent our very first days searching for people who could help us. My wife, Shanthi was making phone calls and still trying to find people who could help us. It was an uphill task because not everybody spoke English and knew where to find them. We were even walking around town carrying a huge sign in Japanese saying that we were looking for old people to photograph and document about them.
*Poster in Japanese:
[envira-gallery id="4450″]
First Photograph of a Okinawan Centenarian
Fortunately, Lady Luck was there to bless us when we were in Nago City. We chanced upon a kickboxing gym where children were training. Inside, we talked to the locals who were very amiable – they even welcomed us to take pictures of them. We met Maki, one of the mothers who spoke English. Maki was our Lady Luck while she brought us to an old folk's home! We were so glad because our long and arduous search finally bore some results. This was where we found our first subject to photograph; we took portraits of 5 senior folks at the old folk's home. I must say that they were very interesting subjects to photograph! While they have well past their golden years they have so much energy in this silver generation.
Finally the first lady aged 100, was introduced to us. She started to tear and was emotional upon meeting us. I told myself and doubted that it's going to be a challenging and complicated project to proceed. Thankfully, everything went out well and we've managed to make these folks happy.
Okinawa Times
The following day at Nago City, a journalist, Yuriko from Okinawa Times came to meet us and enquired about my profile and project. Yuriko initiated and proposed to spread the word about my project. In addition, she interviewed me with the intention to find more old people for me.
*Okinawa Times:
[envira-gallery id="4468″]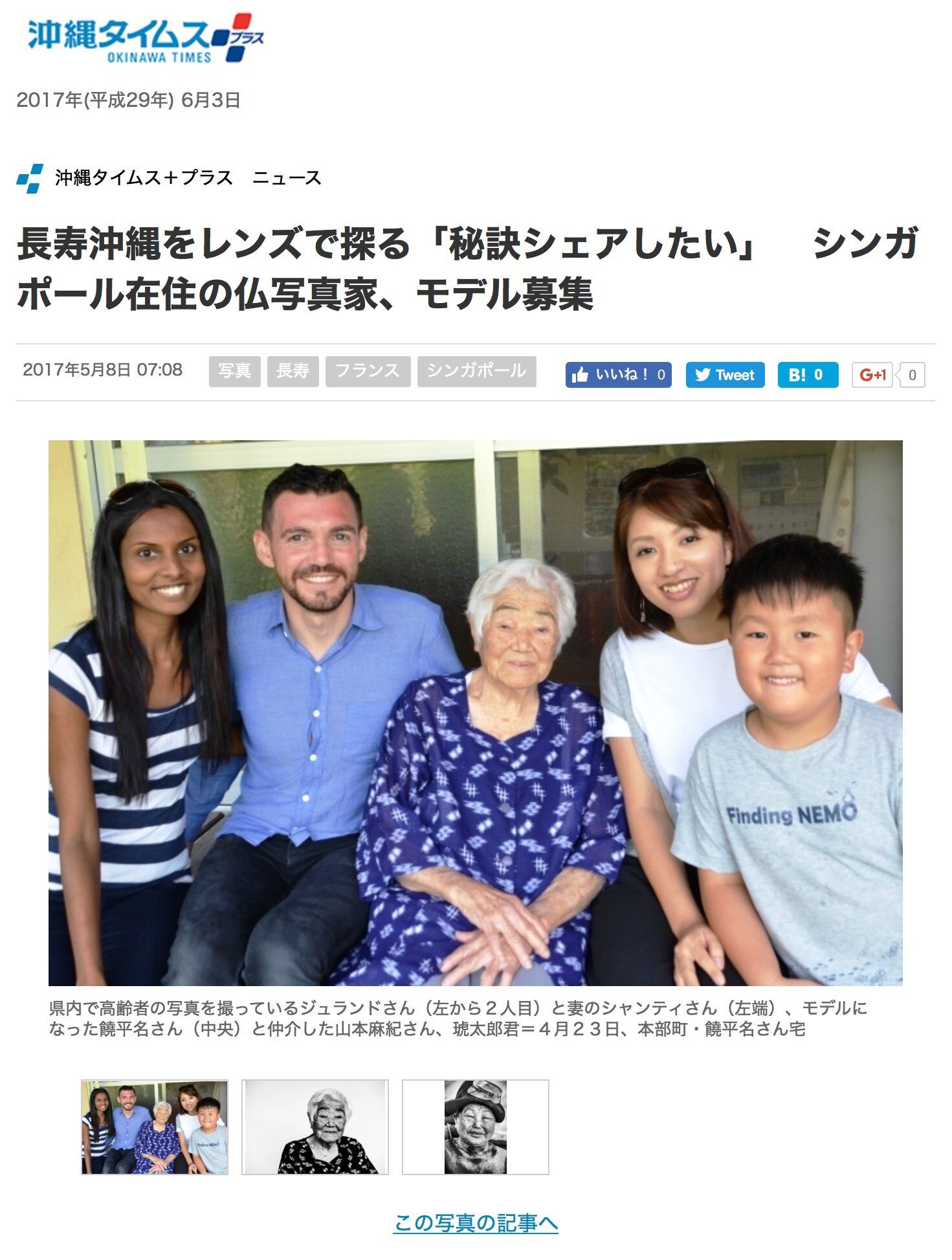 Maki brought us to meet a lady who was turning 100 the coming December. This was one of the more memorable photoshoots because of the amazing garden she owned. There was an enormous and breathtaking garden of hydrangea around her house! In fact, she was renowned in Okinawa and had been featured on television and various publication about her love and passion for hydrangea flowers. In this trip, Yuriko from Okinawa also tag along with us as she was interested to report and interview this 'real time' journey of what I was doing for her article in the papers.
Mako, Incredible lady who help us in the "Longevity Okinawa" project
A day later, we met Mako who was incredibly helpful to us. She was very well-acquainted and got us more connections and contacts to photograph the old people of Okinawa. Mako did almost everything for us, to making phone calls, driving us and being our translator. We were overwhelmed and grateful for her kindness and generosity. I really must thank her for my project. It definitely would not have been a success if not for her. Thank you Mako for your help.
*The Team
[envira-gallery id="4485″]
A few days later, Okinawa Times published the article. Seeing the article in black and white really made my project felt like it was coming to live. In the newspaper article, the journalist also indicated about my previous documentary about the Haenyeo in Jeju Island and about the upcoming exhibition in Fullerton Hotel Singapore slated in October/November 2017.
Due to the newspaper article, immediately, I received a FB message from Takako. She expressed interest that her grandmother is at the age of 97 and has amazing gymnastic skills. As a result, we coordinated and visited her family in Naha City. We had a wonderful time together with the family through the photography time, chat over teatime. They were very welcoming to all of us.
Okinawa, we will be back very soon…
Being to Okinawa has been a dream come true. I really experienced all sorts of joy and emotions throughout the trip. The thrill and the pace was so palpable but what really made me feel accomplished was being able to present the old people in a unique and singular light. It is very hard for me to place everything together because every individual we photographed was eccentric in their own manner. I not only photograph each of the senior folks but also video interviewed each of them about their life and their little secrets in living longer.
In conclusion, I am very thankful for the opportunity I was given. To be able to photograph the eminent centenarians of Okinawa was a task that would never have been possible if I had done it alone: I am really very grateful to Maki, Mako, the many friendly locals of Nago City, the Okinawa Times, The Rhga Royal Gran Okinawa hotel, The HOSHINOYA Taketomi Island, The Okinawa Prefectural Government Singapore office and my wife, Shanthi #modelo and COCO PR & COMMUNICATIONS. In summary, this is an unforgettable trip due to the memories made. I am planning to return back to Okinawa the next few months. I can't wait to mail out the pictures to them because I know they will be just as excited to recollect the memories of us.
*Backstage:
[envira-gallery id="4439″]
While it may be my first trip to Okinawa, this will not be the last. Wait for me Okinawa, I'll be back!
Media
Please find a few links:
NEW YORK TIMES Article – T-Singapore
LONGEVITY – OKINAWA Project Gallery
For any media enquiries, please contact COCO PR & Communications Singapore.
Watch this space for my upcoming article about my travel journey in Okinawa in Tropical Life Magazine Indonesia. I will be publishing about my street photos in Naha city and my travel pictures in Okinawa in my website.
I will be elaborating about my travel journey in Okinawa in my next upcoming post about the country, the people I met from different walks of life, friends and the locations that I've visited, etc…
*Great Memories
[envira-gallery id="4456″]